Hyperdimension Neptunia: The Animation – Hello New World

Gamindustri – Eine Welt, die von vier Göttinnen beschützt wird.
Eine dieser Göttinnen, Neptune, gibt ihr Bestes, um den Share ihres Landes zu erhöhen! … Sollte sie zumindest?!
Einer Geschichte voller Gelächter und Erotik!

Hello New World ist die zweite Mangaserie zu Hyperdimension Neptunia. Sie wurde zum Anlass der Anime-Serie Hypedimension Neptunia: The Animation gestartet und erzählt, ähnlich wie Megami Tsuushin, Geschichten aus dem Alltag der vier Göttinnen und ihrer Schwestern.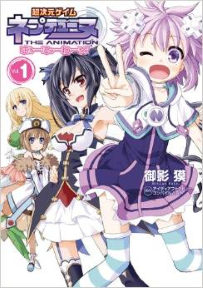 Info
Original: Idea Factory, Compile Heart
Zeichner: Mikage Baku
Veröffentlichung: Juni 2013 – September 2014
Bände: 2